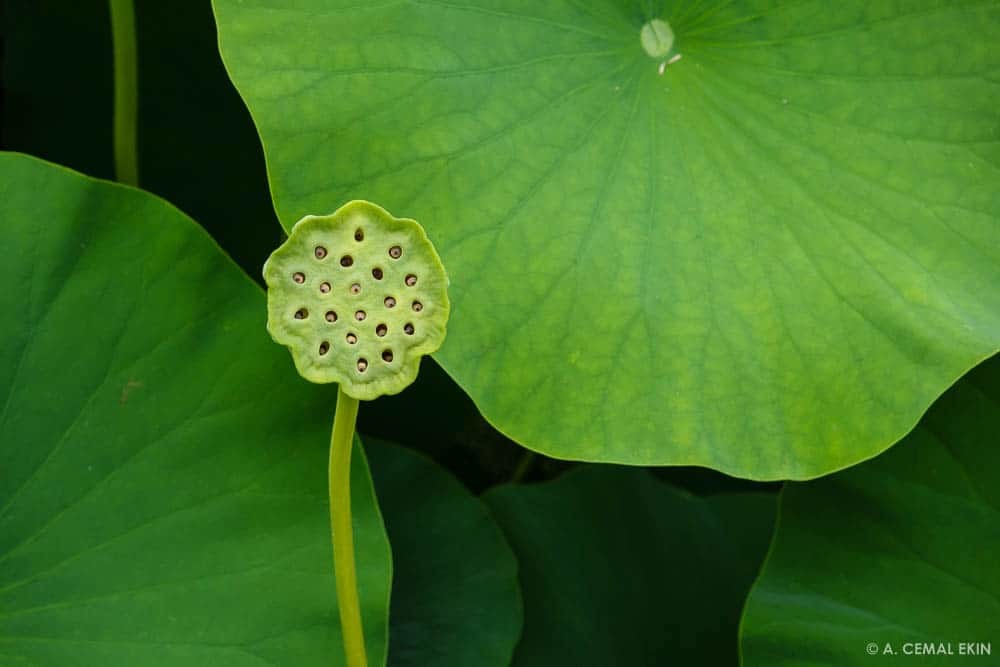 I am not exactly sure if it is the lotus pond or the ice cream stand nearby that attracts us, but this year we made it to Whitman with Jim "to see the pond" once more. It was a cloudy and overcast day and most of the blossoms were either closed or on their way out but I found some interesting frames to photograph that somewhat summarize the life cycle on the lotus pond as I learned from a Buddhist Temple website.
At the Lotus Pond
The perky, fresh, firm buds stand upright, fully erect, showing their strength and their potential. For the next 3-4 days, it would open up to show its petals a little more and close again. Each day it would open at different times and close when it seems appropriate. On day four, the petals would start falling off in the morning, and by the end of the day, all the petals would be gone. In this short lifespan, a lotus blossom would grow and stand majestically on its long stem gracefully swinging by the wind.
As the petals start to fall off, apparently some just hang in there by a thread of fiber, but eventually, the unavoidable pull of gravity and weakening structure will leave the central seed pod naked, exposed. Eventually, that too will dry, and along with the leaves disappear for the next season.
As I watched for interesting frames of lotus blossoms in various stages of life, I managed to get a few frames of dragonflies. Not being particularly versed in photographing insects, flying or not, I tried to follow their flight pattern and captured a few photographs as they returned to the previous landing spot. This, I heard from Dennis on a few occasions as he described how he nails those hard-to-catch photographs of insects and even finickier hummingbirds (my favorite.)
At the Ice Cream Stand
As the photo session came to end, we headed to the ice cream stand of course! I ordered a scoop of black raspberry and Jim got a scoop of maple walnut. I then remembered how big their scoops were and how cold their ice cream was; barely finished half of mine, my stomach feeling the chill, and promised myself (again) to remember to ask for half a scoop next time and let them charge for a full one. It is better to pay and leave behind than pay and dump!
Here are the lotus pond photographs arranged to loosely mimic their life cycle. I captioned them to reflect the stages of their life. Let me know what you think, and spread the word, share on your favorite social media! Just copy the link, and paste it into a new post. And, to those of you who already share my posts, thank you!